Je voulais parler de Survival depuis un petit moment, mais cet article, a fini de me convaincre.
Il confirme les craintes que de plus en plus de personnes formulent vis-à-vis des biocarburants, et indique que récemment, le forum des Nations Unies sur les questions Indigènes a estimé que la culture de plantes (palmier à huile, canne à sucre, soja…) destinées à la production de pas-si-biocarburants-que-ça menaçait de manière directe l'habitat d'environ 60 millions d'indigènes.
De manière plus large, Survival combat pour le respect des peuples indigènes et de leur territoires (et pour faire respecter le droit international qui est déjà censé les protéger…)..
Il y a à l'heure actuelle environ 150 millions d'indigènes, réparties dans 60 pays du Monde. Survival estime même qu'il y a encore une centaine de tribus qui sont "non-contactées" ; c'est-à-dire qui vivent de manière totalement isolée (certaines ayant pu avoir, il y a longtemps, des contacts délétères, avec la "civilisation").
Le texte ci-dessous résume parfaitement la nécessité à mes yeux absolue de laisser ces tribus disposer de leur terre…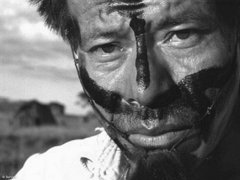 IMAGINE. YOU HEAR A SOUND. IT'S LIKE NOTHING YOU'VE EVER HEARD BEFORE. IT IS THE SOUND OF A BULLDOZER. AND THEN…
IT APPEARS. RIPPING THROUGH YOUR HOME, YOUR LAND. YOU FEEL ONLY ONE EMOTION – FEAR.
YOU HAVE ONLY ONE INSTINCT – TO RUN, AND KEEP ON RUNNING.