Oh boy, this has been a difficult call, but we are happy to finally be able to announce the three winners of our Open IoT Challenge!
The challenge has been keeping our participants busy for two months, and I've already blogged about the ten awesome projects that actually completed their projects.
Our jury (Andrea Ceiner from Eurotech, Fred Rivard from IS2T, Ian Skerrett and myself) has selected the following winners:
Grand Winner: Davide de Cesaris, for the Carracho project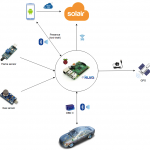 Davide has been blogging like crazy about his Carracho project, and it's really no surprise: he really implemented lots of interesting features in his cloud-based vehicle monitoring solution, so he had a lot to share!
Here are some of the features implemented in Carracho:
Read vehicle ECU parameters via Bluetooth exploiting the OBD-II standard protocol
Capture GPS data with a USB dongle and parse them
Scan for nearby Bluetooth devices to check enabled drivers
Detect security issues like flames or gas leaks
Davide's project is very complete, and a great demonstration of how Kura can help Java developers to quickly build IoT applications. On the server side, Carracho is leveraging the Solair Cloud Platform. It looks like Davide has lots of ideas for the future of Carracho, so I hope he will continue blogging about his experiences 🙂
Davide wins $750, a full MicroEJ license ($5500) and 3 Cortex-M4 development boards! Congratulations!

Runner-up: Emir Ercan Ayar and team, for the IoNeeds project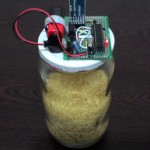 IoNeeds allows to turn your jar (yes, that antique device used to store rice, flour, and what not) into a connected object able to automatically let you know when it is empty, and possibly place online orders for you. You should really have a look at what they did – they even documented how to create your own PCB for the jar monitoring device!
This is a very complete project and I think I will probably try to replicate it myself :smile:. I do hope Emir and Utku will take the idea further, and maybe do a Kickstarter some day!
Emir and his team win $500, a full MicroEJ license and 2 Cortex-M4 development boards.

Third place: Lotte Steenbrink and team for the watr.li project
It's hard to describe watr.li in a better way than the awesome demo that Lotte and her team in their wrap-up video below. Long story short: watr.li is very cool, and you should really have a look at RIOT if you are interested in wireless sensor networks!
The code for the project is on Github.
Lotte and her team win $250, a full MicroEJ license and 1 Cortex-M4 development boards.

---
Finally, we would like to acknowledge the quality of all the projects that entered the challenge. The jury wanted to give a special mention to Franz Schnyder's home automation project. Franz integrated MQTT-SN in Kura, and I really encourage you to have a look at his project, and the source code that he's made available.

Thanks to all the participants for their hard work, and thanks to our sponsors Eurotech and IS2T for the fantastic prize pool. I really hope we will have other challenges like this in the future: developers really are the people who will make IoT a reality!