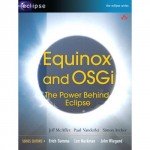 En guise d'avant-goût au livre "Equinox and OSGi: The Power Behind Eclipse", une fiche de référence sur OSGi et son implémentation de référence Equinox a été concoctée par Jeff McAffer et mise à disposition sur le site DZone.
Attention, il faut un compte pour pouvoir télécharger le PDF —et je n'ai pas le droit de le mettre à disposition ici 😉 .
En 6 pages, Jeff fait le tour de tous les concepts de base d'OSGi/Equinox, et répond à des questions que tout développeur de bundles OSGi (et plus généralement de plug-ins Eclipse) s'est un jour posé :
Faut-il préférer l'en-tête 

Import-Package

à 

Require-Bundle

pour la gestion des dépendances?
Quelle sont les différences entre les services OSGi, les declarative services et les extensions Eclipse? 
Comment manipuler ses bundles depuis la console OSGi?
etc. 😉
A lire absolument!